WHO WE ARE
We simplify and improve financial services and inspire better outcomes for all.
With over 16 leading brands and 500 dedicated professionals across the UK, we have a range of opportunities and we are always looking for new talent to join our diverse and expanding team.

We're proud to be recognised as an outstanding workplace by Best Companies for the second consecutive year. We're even more thrilled to be ranked #75 Best Large Company to Work for in the UK and #14 Best Financial Service Company to Work For in the UK.
If you're a team player with a positive, grounded and inclusive outlook, and would like to work for an outstanding company passionate about creating a supportive and inclusive working environment, then we'd love to hear from you.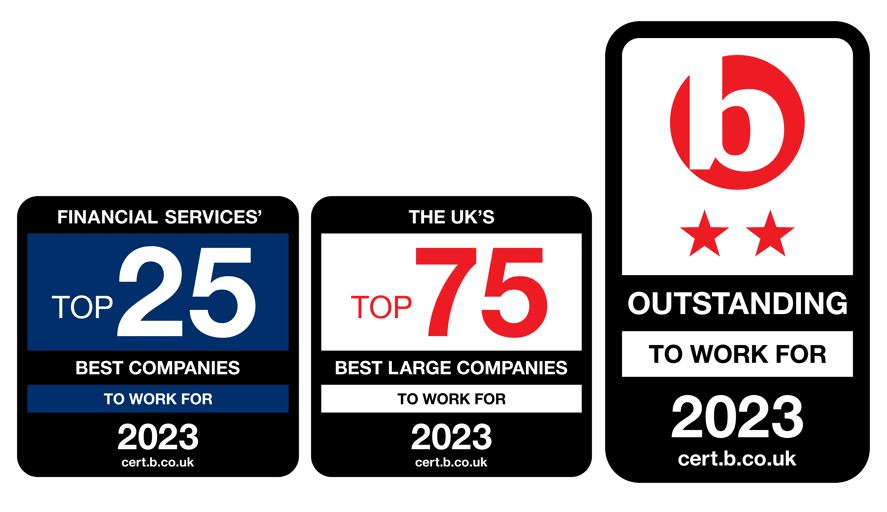 OUR CORE VALUES
Knowledge

We take the challenges our customers face and transform them into effective, relevant solutions which benefit everyone.

Influence

We use our intelligence, awareness and experience to connect our clients with their customers and shape a better financial future.

Excellence

We demand more of ourselves than our clients and ensure that our people and technology solutions are always the best available.

Simplify Complexity

We understand the complicated nature of the financial world and help everyone create clear paths towards better outcomes.

Think Bigger

We constantly explore new ideas with the interests of our clients and their customers at heart. Focusing through their lens inspires our thinking.

Future-Focused

We think ahead, rise to new challenges and break down future barriers to success. Our intuition helps clients maximise opportunities.
OUR COMMITMENTS
Disability Confident Committed

At Fintel we're passionate about creating a supportive and inclusive working environment where all our colleagues feel they can be themselves, thrive in their roles and grow their careers. We believe that diversity is key to a positive culture, facilitating creativity and new ideas and ways of working from a range of people with different backgrounds.

We are proud to be a Disability Confident Committed employer meaning we are committed to actively taking steps to attract, recruit and retain disabled workers.

Real Living Wage

We are proud to be an accredited Living Wage employer.

We believe that a hard day's work deserves a fair day's pay. For this reason we've made the conscious decision to join more than 9000 other organisations across the UK voluntarily choosing to pay their staff at least the Real Living Wage. Our commitment applies to not only directly employed colleagues (including our apprentices and interns) but also to our third party contracted staff.

OUR PEOPLE
At Fintel we are committed to building an engaging, supportive and inclusive environment which allows all of our people to thrive. Our people are the key to our prosperity and we believe we succeed when they do.

Emily Blain

People & Operations Director, SimplyBiz

The business is extremely proactive and passionate about supporting the firms we work with. Fintel never stands still.

Marc Thompson

Adviser Services Director, SimplyBiz

Across all the teams there is such a diverse range of specialisms and expertise.

Julie Rollinson

UX Designer, Defaqto

About Fintel
We are the connecting force within retail financial services. We are here to simplify and improve the sector.
By simplifying and improving the complex financial services world, we create better outcomes for everyone. We're united by an ambition to improve financial services using our shared knowledge.
Although our heritage can be traced back to Yorkshire, we now operate from eight locations across the UK, employing over 500 dedicated professionals, supporting over 10,000 financial professionals and working with over 250 leading providers of financial products.